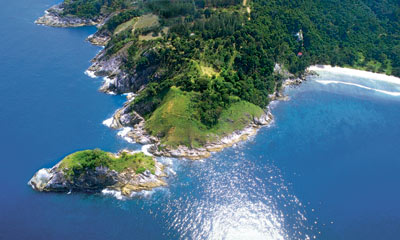 Every villa at Jomchang is different. Every villa at Jomchang is about space, living space within - and empty space around. Where another developer might have easily fitted in two more luxury homes and still claimed adequate separation, Jomchang's planners have left open space - a shared wooded parkland that ensures nobody overlooks his neighbour. This means seclusion, privacy.
Most of the homes will be completely invisible from their neighbours, yet all have almost unbelievable views out. How is this possible? Combining the complex natural landscape with carefully considered, imaginative and expert design, some homes are placed in dramatic settings, others on gently sloping plateaux. This approach to design has shielded each villa from its neighbours and yielded a visual density even lower than the numbers suggest.
The site breaks naturally into three zones. The Upper Plateau has dramatic 180-degree views and, in most cases, a sea view to the rear as well. Villas here will generally be larger and have more functions on a single level. To the front is an open expanse of wooded parkland on a central plateau. Villas in other zones are concealed, giving the plateau villas the illusion of a waterfront home.
On the dramatic West Cliffs, each home is nestled between rock promontories on steep sites and is totally separated from its neighbour. This zone is home to three villas, each with remarkably different outlooks.
The more sheltered East Cliffs zone has views to a small, sandy cove and (in the distance) Patong. This zone features more large trees. One villa, poised directly over the small sandy beach, is separated from the others by what the developers have dubbed 'the forbidden zone', an area of steep cliffs and jungle with a recently discovered jungle track.